Sale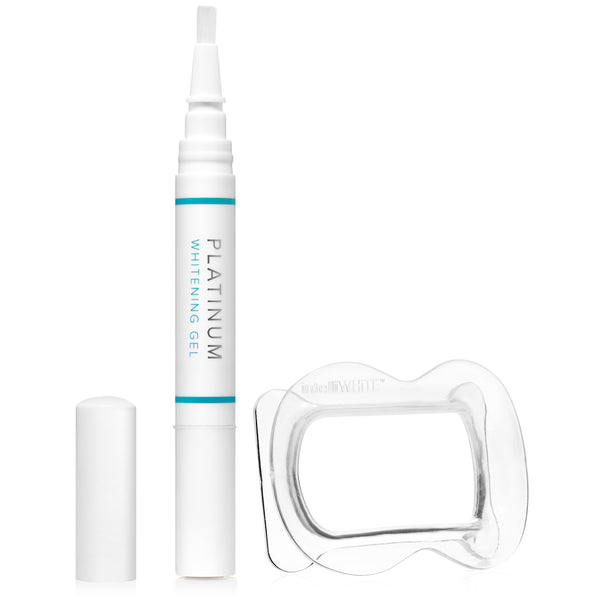 Platinum Whitening Pen and Mouth Guard
Whiter teeth in 7 days! Our dentist quality, at-home patented whitening system is one of the most advanced and effective whitening formulas ever developed.
Clinically proven to whiten teeth up to 10 shades in 7 days.

Patented Latex-free Mouth Guard helps hold back lips for easy application.

Size: .12 oz
Watch our video or follow the steps below!
Open Pen
Open Whitening Pen and remove the black string from brush, allowing the gel to flow.
Insert Whitening Mouth Guard
Grasp the Whitening Mouth Guard from the front, middle notches, and insert the compressed Whitening Mouth Guard against one side of your mouth at a time. With lips resting comfortably inside the groove, you will have an unobstructed view of your teeth.
Prepare Teeth
Dry teeth with tissue.
Apply Platinum Whitening Gel
Brush a layer of Platinum Whitening Gel onto the front surface of teeth and wait for 10 minutes.
Remove Whitening Mouth Guard
After Platinum Whitening Gel has set for 10 minutes, remove the Whitening Guard and any excess gel from teeth. Do not rinse.
Post Whitening
Do not eat or drink for at least 20 minutes after whitening.
Spearmint: Propylene Glycol, Purified water, Glycerin, Hydrogen Peroxide, Triethanolamine, Carbomer, Xylitol, Spearmint Essential Oil, Potassium Nitrate.
Tropical Breeze: Propylene Glycol, Purified water, Glycerin, Hydrogen Peroxide, Triethanolamine, Carbomer, Xylitol, Potassium Nitrate, Essential Oils (Bergamot, Mandarin, Grapefruit, Coconut, Lemon, Orange, Vanilla, Lavender, Lime, and Spearmint).
Q. Only a small amount of Whitener comes out of my Platinum Whitening Pen when I click it. How much is needed?
A. We have carefully measured the amount of product that the Platinum Whitening Pen dispenses. This small amount should be adequate for a thin layer across the surface of your teeth.

Q. Why should I use the intelliWHiTE Mouth Guard with the intelliWHiTE Platinum Whitening Gel Pen?
A. The patented Mouth Guard helps retract your lips to allow for easier application of product. It also helps to keep peroxide products on your teeth and away from your gums to maximize results and prevent sensitivity.

Q. How often can I use the Platinum Whitening Pen?
A. The Platinum Whitening Pen can be used approximately once a month, however this is dependent on your lifestyle (i.e. smoker, wine drinker, coffee drinker). It is safe to use the Whitening Pen more often; however recommended usage is one a month.

Q. How long will the Platinum Whitening Pen last?
A. Approximately 40 applications.

Q. Can I use the intelliWHiTE Platinum Whitening Gel Pen with the Cool Blue™ Whitening Kit?
A. No, the intelliWHiTE Platinum Whitening Gel Pen is not designed to be used with an Activating Light.

---