Sale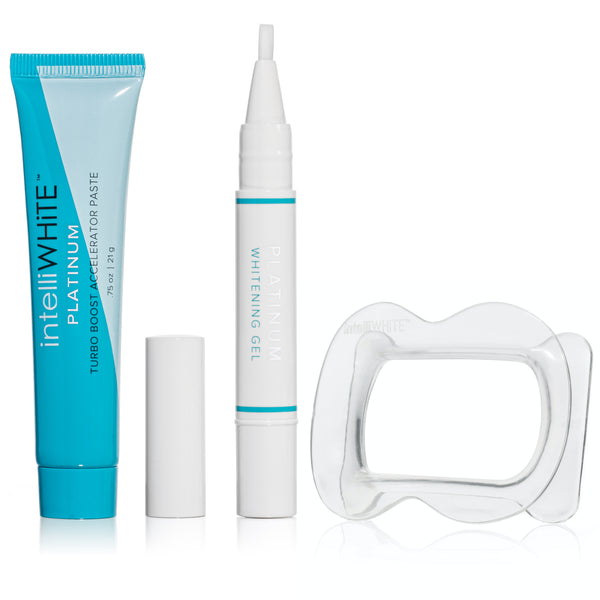 Platinum Turbo White Kit
We've taken the already incredible whitening power of our Platinum Whitening Pen and paired it with our Turbo Accelerator Paste to give you twice the teeth whitening in half the time! This patent-pending, easy-to-use system works together to give you safe, effective and sensitivity-free whitening.   
The Platinum Turbo Boost Accelerator Paste with a pH of 8.95 cleans, prepares and raises the pH of the tooth's surface
Removing debris and pellicle layer on the teeth allows the peroxide in the pH neutral Platinum Whitening Gel pen to work even better
The ingredients in the accelerator are specially formulated to help break down the peroxide in the Platinum Whitening Pen faster
Contains: Xylitol, bentonite, spearmint leaf oil and sodium bicarbonate
In a clinical study of 32 subjects using the Platinum Whitening Pen and the Accelerator Paste once a day for 10 minutes participants' teeth measured an average of 9 shades whiter after 4 days and more than double that number of shades after 7 days. 
Step 1: Remove cap from Platinum Whitening Pen and twist the bottom until a small drop appears on the brush. It may take several turns to prime the pen the first time. Remove mouth guard from packaging. Set both items aside.
Step 2: Place a pea-sized amount of Platinum Turbo Boost Accelerator Paste on a dry toothbrush. Do not wet brush after Accelerator Paste is applied.
Step 3: First, dry teeth with a tissue and then brush the front surfaces of the teeth you want to whiten moving from tooth to tooth in a circular motion for about 30 seconds making sure to leave a thin film of paste on the teeth. Gently spit excess saliva. DO NOT RINSE.
Step 4: Insert Whitening Guard into Mouth
Step 5: Paint a layer of Platinum Whitening Gel on the front surface of upper and lower teeth. If more gel is needed, twist pen again. When applying gel, stay away from gum tissue. Gel should only be applied to teeth.
Step 6: After 10 minutes, remove Whitening Guard and spit excess. DO NOT RINSE, DRINK OR EAT FOR 20 MINUTES AFTER TREATMENT. Platinum Whitening Gel will continue to work.
After each whitening session rinse the Accelerator Paste off toothbrush with warm water and leave toothbrush to dry so it's fresh for your next session. Wipe brush tip of the Whitening Pen after each use.
Repeat once a day for 5-7 days.
EVERYONE HAS DIFFERENT WHITENING NEEDS: Your shade of white is unique to you. You should see results in as little as 4-6 treatments but continue to use until you reach your desired result. For maintenance: use as desired.
Platinum Turbo Boost Paste: Sodium Bicarbonate, Glycerin, Water, Hydrated Silica, Xylitol, Sucralose, Bentonite, Mentha Virdis (Spearmint) Leaf Oil, Sodium Benzoate, Potassium Sorbate, Xanthan Gum, Pvp, Disodium Edta, Magnesium Gluconate
Ingredients: 
Propylene Glycol, Purified Water, Glycerin, Hydrogen Peroxide, Triethanolamine, Carbomer, Xylitol, Spearmint Essential Oil, Potassium Nitrate

Made in the USA
---