Sale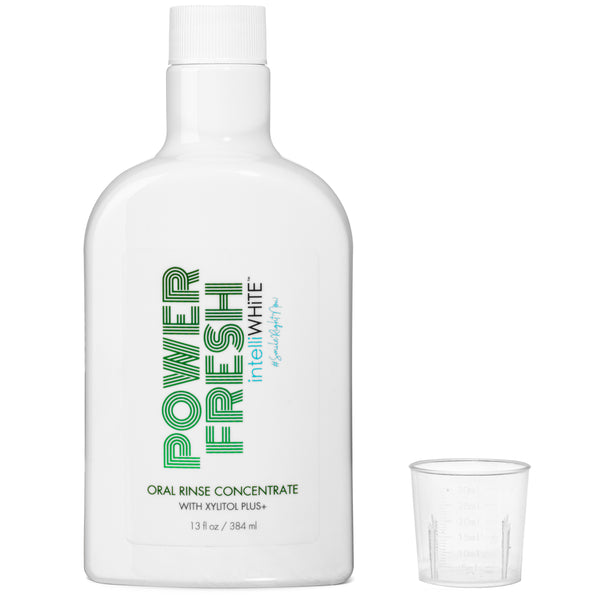 Power Fresh Oral Rinse Concentrate
Give your mouth a makeover! This innovative oral rinse concentrate fights bad breath while brightening your smile. Incorporate our patent pending formula into your daily regimen to freshen breath and your smile. 
Keeps breath fresh for hours
Reduces "morning breath"
Formula contains Xylitol, which helps make plaque less adhesive to teeth and reduce the chance of tooth decay
Won't dry out mouth, causing more bad breath
This product contains no parabens, saccharin or dyes
Alcohol Free
Concentrated so you only need a small amount - 78 uses in 13oz size
Made in the USA
Swish


Swish 1 teaspoon of the rinse around your mouth for at least 30 seconds before spitting it out.
Repeat as Needed




Use Power Fresh Oral Rinse twice daily for fresh breath. 
Water, Xylitol, Polysorbate 20, Polysorbate 80, PVP, Mentha Viridis (Spearmint) Leaf Oil, Mentha Piperita (Peppermint) Oil, Moneammonium Glycyrrhizinate (Licorice Root), Flavor, Calcium Clycerophosphate, Menthol, Sodium Citrate, Sucralose, Zinc Chloride, Thymol, Citric Acid, Sodium Bicarbonate, Potassium Phosphate, Sodium Ascorbyl Phosphate, Potassium Sorbate, Sodium Benzoate, Benzoic Acid.
Q. Are intelliWHiTE whitening products safe for bonding, crowns, porcelain veneers or dentures? Is it safe on all dental work?
A. intelliWHiTE formulas are safe to use on dental work. They will remove stains from the surface of the dental work and bring them back to their original color. They will not cause dental work to become lighter than their original shade.
Q. Can I whiten with peroxide products when I'm pregnant or nursing?
A. Using peroxide products during pregnancy or nursing is not recommended.
Q. Are intelliWHiTE products gluten free?
A. Yes, all intelliWHiTE product are gluten free.
---