Sale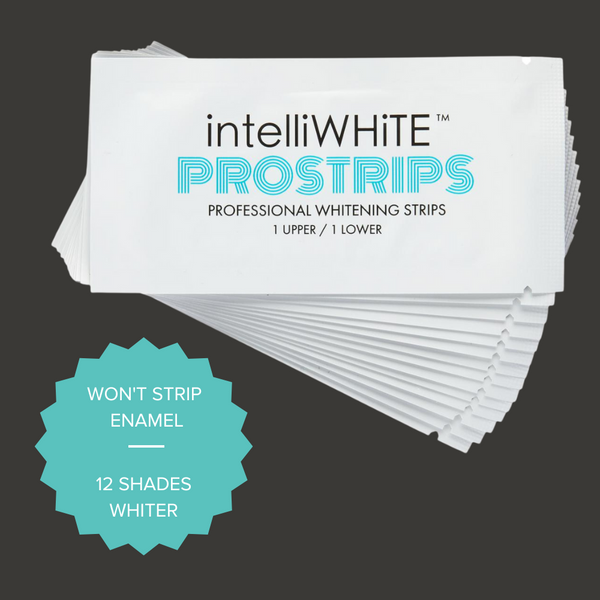 Prostrips Teeth Whitening Strips
ONLY STRIPS That will not strip the ENAMEL!!! FIRST OF ITS KIND

BIO-Mineral technology (ours alone)
PROVEN Tested safe at a top University!!
Whitens 12 Shades, CLINICALLY Proven!!
SUPER GRIP Technology: Will never slip
VIRTUALLY NO-SENSITIVITY. 97% of users noted they did not experience sensitivity us Prostrips. 
Xylitol hydrates, helps mineralize and fight plaque
Invented by renowned dentist, Dr. Jennifer Jablow, who has whitened millions of smiles!!
 *1 Box includes 14 Treatments (28 strips: each with 1 upper / 1 lower)
FOR BEST RESULTS
- Do not use fluoride toothpaste prior to whitening
- Apply on dry teeth
- Remove strips by peeling from back of teeth
- Brush off excess gel with warm water and soft toothbrush
- Wear strips for 30 minutes
- Wait 20mins before eating or drinking
Pvp, Glycerin, Hydroxypropylcellulose, Water, Hydrogen Peroxide, *Alcohol, Xylitol, Potassium Nitrate, Dicalcum Phosphate, Menthol (Flavor)
*Alcohol is used in the manufacturing process of the intelliWHiTE Prostrips and is flashed off the final product. Final formula may contain traces of alcohol. 
Made in the USA
---
The Reviews Are In: Here's what real users are saying about intelliWHiTE