Sale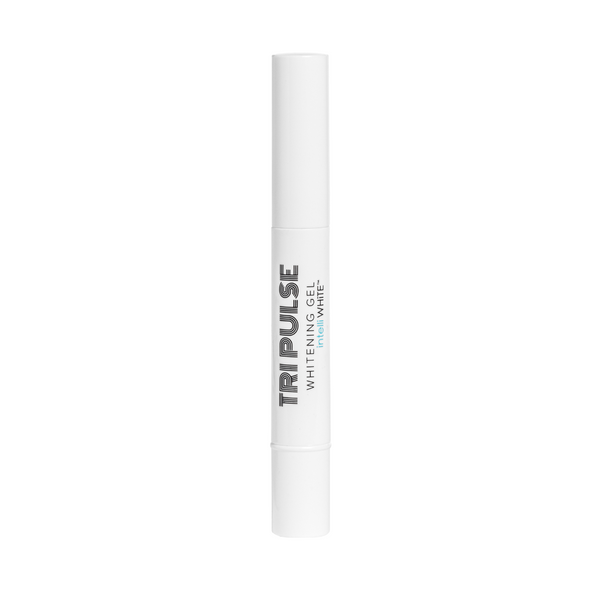 Tri Pulse™ Refill Kit
A proprietary component of the Tri Pulse™ Whitening Light System. Formulated with a blend of peroxides: hydrogen and carbamide, for maximum whitening.
Developed to use with the Tri Pulse Teeth Whitening System
Mint Flavor
Easy to use application
Contains xylitol, a natural sweetener, known to make plaque less sticky to teeth
Two different types of peroxide treat both long and short-term stains
20 applications
Kit includes:

.12 fl. oz. Tri Pulse™ Whitening Gel pen
1. Brush teeth with a non fluoride toothpaste or just water and toothbrush
2. Dry teeth with tissue
3. While holding a wide smile, paint the gel from the pen in a thin layer on the front of each tooth you want to whiten. Stay away from gum tissue. 
4. Place the light device in your mouth with on/off button facing up. Do not turn on until it is in your mouth. (Sold separately)
5. Press the button. The device will turn off automatically after 20 minutes. (Sold separately)
6. After the 20 minute cycle, take the light device out of your mouth. Spit out excess saliva and residue. Wipe teeth again with a tissue. Do not rinse, eat drink or brush for another 20 minutes.
Propylene Glycol, Water, Glycerin, Hydrogen Peroxide, Triethanolamine, Carbomer Homopolymer Type C (Allyl Pentaerythritol Crosslinked), Carbamide Peroxide, Xylitol, Spearmint Essential Oil, Potassium Nitrate
---